The food was excellent
November 27, 2016
by Bianca F.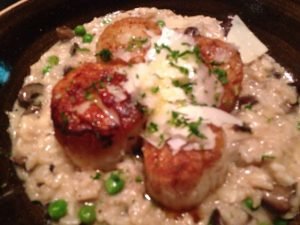 I found this place online when we were staying in Ocean City. We came here for a late dinner and had the scallops and the steak. The food was excellent!!! I loved the scallops.  The place has a nice wine bar. The drinks were very good. I had some drink that came with rock candy. I liked the rock candy so much, that I asked for a to-go box for it.  Definitely worth a visit for a nice dinner.
Good start to evening
Great place to have a drink before dinner. The bar is very active and for the more mature crowd. A must is the cheese flight at the bar as you have a nice glass of wine or martini. Dinner is outstanding as well. Love the atmosphere. Give it a try.
WOW!
September 25, 2016
by Sumer M.
We came here for dinner a few weeks ago with a group of friends. We came on a Friday night and were seated right away. I love the atmosphere here and the décor, it really is a beautiful place! All the food was absolutely amazing. We enjoyed the calamari appetizer, the feasting board and also a separate hot coppa board. All were soo delicious! For dinner I ordered the wagyu burger. It was awesome! The fries were super crispy and the burger was juicy and full of flavor. My boyfriend ordered a steak that came with fingerling potatoes. He really enjoyed it! Our other friend ordered the chicken paté, and WOW! I have never had paté before this and it was delicious! I would definitely order this myself when coming here in the future. We also ordered a few mixed drinks, all were very good. For dessert we ordered the donut ice cream sandwich, which was to die for! It was warm and you could tell everything was very fresh. Our waitress was very friendly Overall, the whole experience was perfect and everytime we come to Ocean city, Maryland we will definitely stop here!!
The BEST time
July 27, 2016
by Alison P.
We had the BEST time here! Adriane was our waitress and she was super knowledgeable of what to order based on what we told her were our likes/dislikes. The food was great and the wine/cocktails were even better. The atmosphere was fun and the price was right! Would definitely go back!
Gourmet Cooking at the Beach
One of the best selection of cheeses outside of France. Recommend the feasting board of cheeses and sausages, with figs. The Wagu burger is superb and reasonably priced. Seafood is very good, particularly the cobia. Great wine selection.
Wagyu Burger Voted 4th Best in U.S.
Headed here after a Conde' Nast magazine poll named their Wagyu Burger the 4th Best in the U.S. Pretty much the most notable Burger I've had so far. They ground Wagyu beef, NY Strip & Brisket they advertise as local together to make the flavorful patty.  It came with thick-cut fries that were also wonderful. Tasty condiments were included such as a good beer mustard, the greatest relish I've had, a smoked tomato & jalapeno sauce and a house-made Ketchup I couldn't stop tasting. I paired a Chimay belgian ale from their bottle shop with my meal. There's pretty much a reason why their Burger has gained high honors. The restaurant was really nice and unique. Looked very cool.
Gem at the Beach
While the kids went to the boardwalk, my husband & I found a first class oasis, Liquid Assets, to enjoy the evening. The atmosphere is casual & relaxing, like being in a friend's wine cellar. Staff is very friendly, helpful & attentive. Great menu choices! The food is outstanding. Never had a meal this good at any beach. My husband's meal was not served hot enough for his likening but staff politely & quickly took care of it, which is how a top notch restaurant handles such a situation. I will definitely make every effort to go back. Even if you just stop for a drink (or 2) & appetizers, this place is not to be missed if you are an adult in Ocean City, MD.
This Place is Amazing!
Such a cool venue with some amazing dishes on the menu. I couldn't stop staring at everyone else's tables looking at all the other choices. We settled on the grilled cheese sandwich and the roasted beet salad. YUM! The French fries were so good. Cooked perfectly. Service was great! Food was delicious! Beer, wine, and liquor selection out of this world. We will definitely return on our next trip to OC!
Liquid Assets is our Restaurant of Choice
Saved Liquid Assets for our restaurant of choice on our last night in OC. It definitely didn't disappoint. From the hostess, the wait staff, the atmosphere, and the food...everything was terrific. Our waitress was prompt and very helpful. Hats off to the chef. We tried several plates. Every single one was as good as the others. The roasted beet and pear salad was amazing. The flavor combinations were spectacular. If you're a foodie, visit this place! Lots of culinary creativity going on here!
Liquid Assets Rocks our World
Liquid assets continues to rock our world!  Not only is the food fantastic but they're consistent.  Tonight we had charcuterie boards, the incredible chicken Caesar salad again, out of this world shrimp and grits, and a ridiculously decadent ice cream sandwich made out of homemade donuts for dessert.  Great ambiance and service as usual.  Our server Staci from eight months ago remembered us instantly and greeted us like two old friends.  Just can't say enough good things about liquid assets.