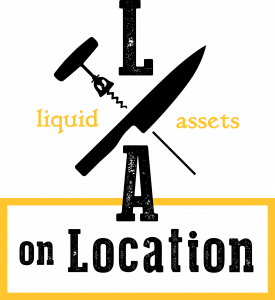 Catering doesn't have to be predictable. Surprise your guests with a sophisticated dining experience they won't easily forget with L.A. on Location. Contact us today to start planning your special affair!
Liquid Assets, one of Ocean City, Maryland's outstanding restaurants and off-premises catering company, has been providing creative catering concepts, customized menus, innovative cuisine, and professional event staffing for events of all sizes since 1984.
Creative Catering Concepts
Whether it's an intimate party at home, beach gathering, your corporate holiday party, or the wedding of your dreams, Liquid Assets will help create your unforgettable occasion!
Customized Moments; Personalized Settings; Location Logistics
We believe that a smile and a glass of wine will inspire a contagious atmosphere. We know that a personalized approach to customizing an event will yield rich memories. We can transform your cocktail party, birthday celebration, beach gathering, or wedding into a stress-free event that you and your guests will never want to end.
Whether it is a romantic dinner for two, or a lobster bake for 30, L.A. on Location can help make your occasion a special one.
From creative customized menus to location logistics, professional servers and bartenders to china, silver, linens, tables and chairs, L.A. on Location will help plan every step to make the day or event of your dreams come true!
Let us help you make the event you've always dreamed of come true!
We have the ability to provide the food and staff to make your special event memorable and carefree. We enjoy thinking outside the box and would love to make your party the talk of the town.
All of our events are custom designed with the individual and their guests in mind.
A quick look at our wine shelves, and one taste of our food, and it will be obvious how much we love what we do. Our years of combined experience and our personal approach will result in a great time for you and your guests.
Thank you for your submission.